Horses are my heart animal.  My connection is soul deep
I can't remember a time when I haven't loved horses.  I started riding horses from a young age – my older sister & I would use Mums aprons & ride the lounge or the tank stand.  I had two (imaginary) horses – a big black stallion and a feisty chestnut mare.
My big sister has always been my main supporter, my accessory in crime and cheer squad.  So it was no surprise when we put a skipping rope in the mouth of the unridden (real) pony in the neighbour's paddock. We were 7 and 9. She handed me a plastic play helmet and legged my up onto the fiery steed …. I still remember the ground rushing towards me as he promptly took off in fright!
I imagine my delight when we finally received our first pony
At when at 10 years of age we were given an unbroken (luckily handled) 2 year old filly.  Neither mum or dad had any horse skills so we all spent many happy hours learning together.  As we grew and I literally took the back seat as we had to double to trail ride anywhere, neighbours took pity and offered me other ponies to ride – the naughty ponies that their kids were too afraid to ride!  And so started my journey of collecting and connecting with unwanted misunderstood equines.
I had always dreamed of becoming a top-class eventer, however, I started having eye issues, and as my left lid closed I had difficulty seeing around left corners, especially when showjumping.  Once my older sister came to my aid and so I became the rider of her show horses.  She coached me on the lunge perfecting my riding to enable me to win numerous rider classes and champion hack awards.
Mel's Qualifications
Bachelor of Exercise and Sport Science
EA Coach – Intro Level
Franklin Method® Equestrian – Franklin Ball Certified
Cert 4 in Fitness  – Fitness Australia Registered Exercise Professional Level 3
Cert 4 in Training & Assessment
Cert 4 Remedial Massage Therapy
Cert 3 in Fitness
Breathwork Practitioner
Mountain Bike Australia Coach Level 1
Athletics Australia Run Coach Lev 2
The Onset of Mitochondrial Disease
However, as my eyesight deteriorated, I faced more difficulties. My balance and perception changed, I lost my sense of depth and began to sit rotated in the saddle. I had difficulties telling how far ahead the horse was in front, always riding a left circle hoping I wouldn't ride into the bunting (or worse still the judge!). I also lost some hearing in my left ear and didn't know if the judge had called us in for the line-up.
As a young adult, still prior to my Mitochondrial  Disease diagnosis, a doctor broke the news – 'My advice is to quit your job, move to the city, learn to read Braille and prepare a life as a blind person'.  Mito is a genetic degenerative condition; it can affect any organ at any age or stage in life.  For me it started with my eyes and has affected my respiratory & gastrointestinal systems and at times muscle weakness & cramping through different parts of my body.  Exercise & staying healthy is an important part of my life, I appreciate I'm not going into remission or recovering, but I can certainly enjoy the life I have for as long as I have.
The foundation of Strong Stable Seat
To assist with my own frustrations and I gathered skills and knowledge as a health & fitness coach to break down the muscles and movement patterns necessary. I also became a Mountain Bike competitor, determined that nothing was going to stop me doing the things I loved.  Like most of us, I'm not a natural horse rider, and with my deteriorating condition it's a consistent challenge for me to continuously evolve exercises to maintain my body awareness and stability. I have found that keeping my body in shape has made an enormous difference to my life and my horse riding and now am able to share this with others through my Strong table Seat Program.
Mel's Achievements
National 24hr Mountain Bike Champs 2008 4th Overall/ 2nd Age Group
World 24hr Mountain Bike Champs 2008 10th Elite
World 24hr Mountain Bike Champs 2011 4th Age Group
National 24hr Mountain Bike Champs 2017 1st Age Group
Terra Australis 5-day Stage Race 1st Women Team
 I love to ride a soft, supple, balanced and responsive horse. As we're a team, I need to be the same.
Mel Macaulay and her lovely Thoroughbred, Polly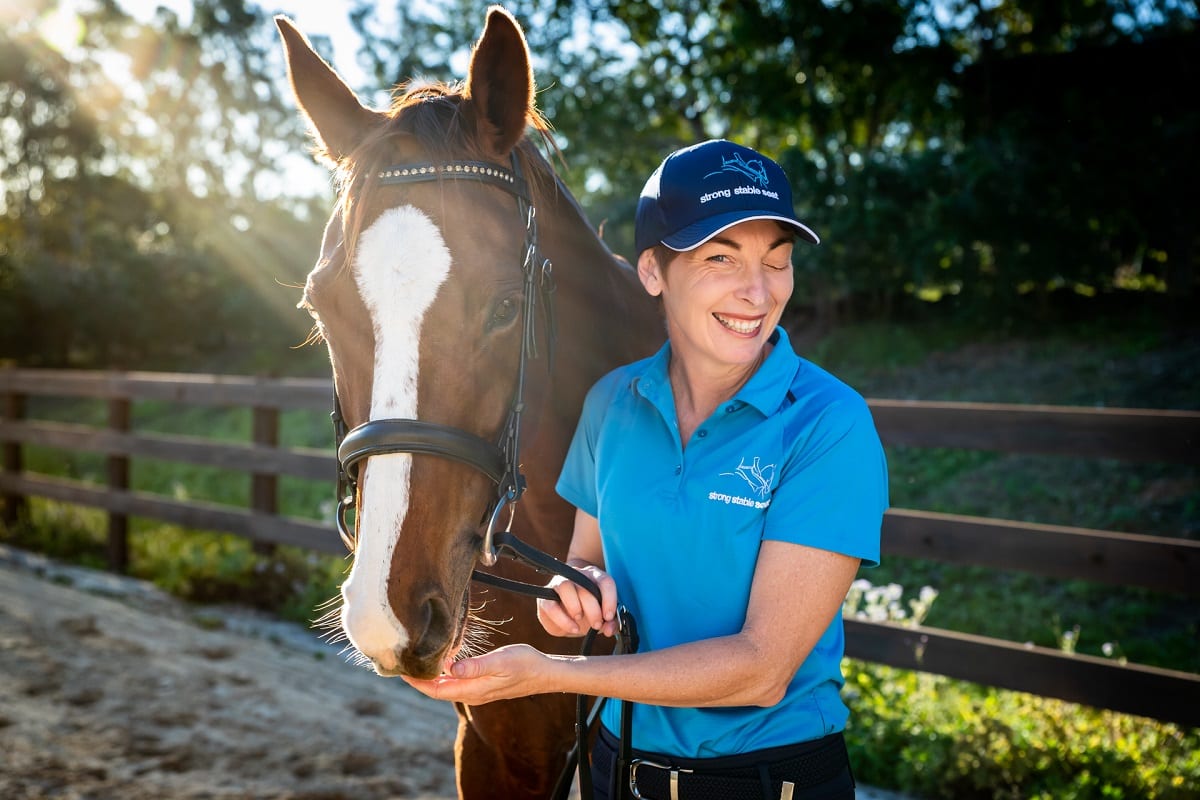 NOW LIVE STREAMING 4 SESSIONS PER WEEK
Register here to receive 1 Week trial FREE